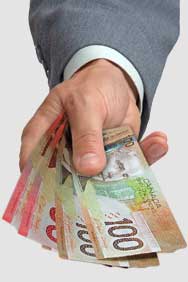 Getting a loan from us is an easy and conve-nient way to get cash in 10 mi-nutes or less. Simply bring your item (collateral) which could be your Gold, Silver or Platinum Jewellery, coins or bars, your Quality Electronic item or a Tool item to our store, and get a cash loan on the spot!
Here is how it works:
You bring one of the items (Jewellery, Quality Electronics or Tools) to our store where one of our trained staff will appraise your item value based on its market value and condition (fair, good, excellent). Then, they will tell you the maximum loan value. It is up to you to borrow any amount up to maximum loan value!
Normally, we give loans for 1-month period. However, if you feel like you can not repay your loan within 30 day period, simply come in and renew your loan by paying off the interest! Meanwhile, your item(s) will be stored in secured storage room or a vault.
Once you are ready to repay the loan, simply come to our store and redeem your item(s).
This is how our typical loan is being given:
Money Loan for Your Gold Jewellery Just in 10 Minutes at Money Vendor Pawn Shops in Toronto.A customer comes into store and brings a Gold chain that she wants to borrow against. Our trained specialist tests the jewellery item and puts maximum loan value of $345. However, our customer only needs $200 loan to cover unexpected bills. Upon checking government issued ID and having the contract signed, our customer receives a cash loan in the amount of $200 due within 30 days. The whole process took a mere 5 minutes from start to finish! Meanwhile, the Gold chain item was put away in a marked bag to our secured vault. 3 weeks later, our client returns the loan with interest and takes her gold jewellery item back. Money Loan for Your Quality Electronics Just in 10 Minutes at Money Vendor Pawn Shops in Toronto.Another customer walks into store with a Sony PS3 video game system that he wants to get a loan against. Upon testing the system, our trained specialist offers a maximum loan value of $ 215. After checking government issued ID and signing the contract, he accepts the loan in the full amount of $215. The whole process took less than 10 minutes, and the customer receives the much needed cash loan! Meanwhile, the item was put away to our secured backroom. 30 days later, the customer returns to the store and asks to renew the loan for 30 more days. No problem! Our customer pays the interest and after signing new contract, the customer walks away knowing that his item is being kept secure for another 30 days.